to What's New

to index

to main

mail to bluesboy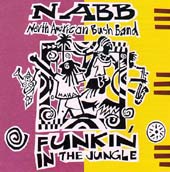 FUNKIN' IN THE JUNGLE / NABB 1995 NABB RVR Ascap Publishing

‡@ The Singing Song ‡A Big Time Thief ‡B The Bridge ‡C Homeless Not Homeless ‡D New Born
‡E Funkin' in the Jungle ‡F Don't Want You Baby ‡G Hollywood 3PM ‡H Nursery Rhymes ‡I Wind Dance
‡J Into You Into Me ‡K Masayo

Kwama Thompson - lead vocals,perccussion
Kalomo - Sax,vocals
Jan Jeffries - drums,jembe,vocals
Rick Smith - guitar,vocals

Recorded at RVR Records,1202B Kona St.,Honolulu,HI 96814
Produced by Kalomo,NABB and Pierre Grill,RVR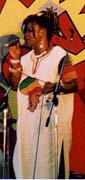 NABB !!
How beautiful they are!
There're Most beautiful funky feeling.
Kalomo makes a fantastic world.
Especially Kwama's songs are very beautiful!
I can feel the wind of the earth from her.
The wind take me to the heaven.
Maybe her songs include warm kind.

Kwama Thompson was born in Ghana Africa.
Now she is singing in Hawaii usualy.

A day She had visit to Japan.
I met her then.
I got a chance to hear her songs.
She had singing some songs with us. / Sometimes we are blues band .
We were impressed by her that night.

The day after,we had a small concert at nearside of a station of our town for introducing her to people.
That was very delightful time to all people.
People was get a great thing from her.
I think so.

By the way,
She has some friends in Japan.
And some of them are friends of mine.

I hope some day,meet her again
The place is Hawaii? or Gahna?

Thanks

- bb Aug.17,1998
---

Into You Into Me - Japanese edition / NABB Inc.JAPAN NABB 4966

This is for Japanese.
Singin words of japanese.
and inst track.







---
Kwama and us at a concert.



left to right -
sataka - sax / rituo - drums / kwama - vocal / tomo - bass / ryo - vo,guitar / bb- lead guitar
We had play three songs with Kwama.
That was feel great for us and them all.
Thank you Kwama!
---