AmazingMIDI
WAV to MIDI converter for music transcription
---
What is AmazingMIDI?
AmazingMIDI automatically transcribes music, converting WAV files into MIDI files. It can recognize single-instrument polyphonic music. It's a powerful tool to help you to transcribe music, to practice musical instruments and to make MIDI files, and so on.
AmazingMIDI creates an Output File (.mid) from an Input File (.wav) that contains musical data, and a Tone File (.wav) that consists of monotone data. AmazingMIDI analyzes the Input File, assuming that every sound in the file is played with the same tone color as the one in the Tone File. As a result, even if the music contains several different instruments, AmazingMIDI writes down all detected notes as a single-instrument music.
The quality of music recognition depends on the tone color of the music. AmazingMIDI is suitable for analyzing the precise-frequency attenuating sounds like piano or guitar. The drum sound becomes only noise.
Currently, automatic music transcription has no substantial solution in general, but with some restrictions of the domain, it can be both possible and useful. AmazingMIDI is one of these systems, and is still in its infancy. However, again, it's a powerful chord analyzer.
Supported File Formats
| | |
| --- | --- |
| Input/Tone File (wav): | PCM, 16-bit, 22.050kHz/44.100kHz, mono/stereo |
| Output File (mid): | Standard MIDI File, Format 0 |
Here is a sample file converted with AmazingMIDI. Try to listen! sample.wav (422KB) --> sample.mid (1KB)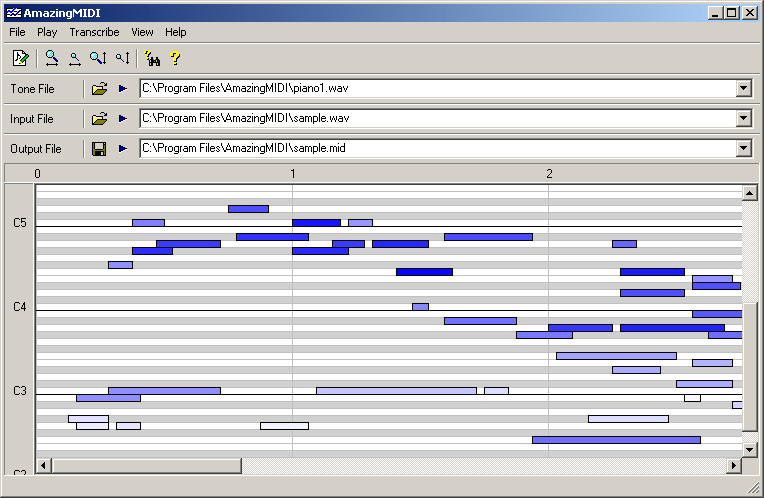 What's New
Version 1.70 (August 20, 2003)
AmazingMIDI is now freeware! Thanks to all who have previously registered, your support is really appreciated!
Expanded maximum file size up to 1024 seconds (17 mins 4 seconds)
Download
AmazingMIDI is freeware and may be freely copied and distributed as long as the entire unmodified program is copied and no fee is charged. To install AmazingMIDI, simply download it, and run the installer program.

AmazingMIDI 1.70 from this site (in Japan)

AmazingMIDI 1.70 from TUCOWS (fast)

AmazingMIDI 1.70 from Simtel.Net (fast)
| | |
| --- | --- |
| Filename: | azmid170.exe (744KB) |
| Version: | 1.70 (August 20, 2003) |
| License Type: | Freeware |
| Supported platforms: | Windows 95/98/Me/NT/2000/XP/2003 |
THIS SOFTWARE AND THE ACCOMPANYING FILES ARE DISTRIBUTED "AS IS" AND WITHOUT WARRANTIES AS TO PERFORMANCE OR MERCHANTABILITY OR ANY OTHER WARRANTIES WHETHER EXPRESSED OR IMPLIED. NO WARRANTY OF FITNESS FOR A PARTICULAR PURPOSE IS OFFERED.
Frequently Asked Questions
Q: Can AmazingMIDI convert EXACTLY a WAV file into a MIDI file in such a way that the MIDI file sounds like the original WAV file?
A: Unfortunately, the answer is NO. The WAV file is a recording of any sound (including speech) and MIDI file is sequence of notes (similar to musical score). Therefore it is not possible to reproduce original WAV sound on a MIDI file EXACTLY. Please consider AmazingMIDI as an assistant of transcription.
Q: I need this dog's bark sound smaller on my web site. Can I do that with AmazingMIDI?
A: Once again the answer is no. MIDI file is sequence of notes, or musical score. MIDI format is not a compression technology such as MP3 format.
Q: I can't transcribe vocals well. Is it possible to improve the transcription ability on vocals by adjusting the parameters?
A: AmazingMIDI provides poor results on unstable pitch sounds like vocals. It isn't so effective to adjust the parameters for vocal transcription.
Support
Please read the Help file before sending e-mail. Most of the common questions are already answered.